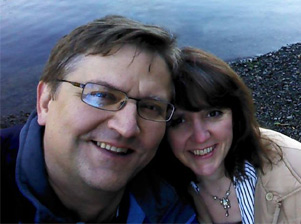 JimBits Solutions was originally hired for one HTML website that was in desperate need of a complete overhaul. Since 2001, we have designed and modified over 300 websites and have gained a reputation for professionalism and friendly service at a fair price.
Jim managed all of the website work until it became obvious that it was just too much for one person. He trained his wife, Twyla, to write code, find effective tools and create a website that is, as many clients have said, "just what we're looking for!" It didn't take long for Twyla to become the expert and Jim's "go-to" person. We enjoy thinking outside of the box and will do all we can to provide the online presence you need to make yourself known to the world. We strive to stay abreast of the latest developments in web trends and are personally committed to excellence.
Take a look through our portfolio if you'd like to see some of the work we've done. Give us a call at 403-335-8800 or follow the link on the left and let us know what you're looking for. We'd love to connect with you!
We are proud to assist a number of charitable organizations and others in the work they do. Whether that support is through our normal "above and beyond" service or through providing a reduced rate, we believe it is a small way we can do our part. Some of those organizations are found in our portfolio of website designs; others we assist in various ways. If you are a charitable organization, don't hesitate to talk to us about what we can offer.