At JimBits Solutions, we are able to provide all the services needed to get your website up and running.
Whether you have an existing website or are starting from scratch, we can help you understand what is needed and can provide as much as you need for an effective website.
Our services include: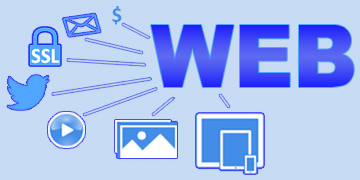 consulting - talking to you about your website needs and going through available options
domain name registration (your website name)
domain name forwarding (sending one website name to a different website)
email services and configuration
web development, optimization & maintenance
We can work with you to design a "look" that fits your needs or work with your existing logo and colors to enhance your organization.
search engine submissions (getting your website into the search engines)
full-service webhosting through our Linux servers ( a place to put your website on the internet)
Our servers include such options as:

PHP, CGI & Perl
media capabilities
secure site (SSL) & GPG encryption*
static IP addresses*
multiple email accounts including spam protection and webmail
opt-in mailing lists*
mySQL databases
multiple FTP accounts
anonymous FTP
complete control panel with full statistics
various scripts, including shopping carts, forums, content management and many others


*extra charge
Contact us for more to find out how we can help you get online or enhance your web presence.